"When visiting Sander's family in Korea, we were asked many times to bring back K-Beauty products for friends in Europe. The more we brought back K-Beauty products, the more we realized how much people loved them!"
But they were hard to get and not always easy to understand.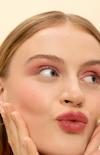 "We founded Yepoda to make Korean skincare more accessible and bring the power of K-Beauty to Europe."